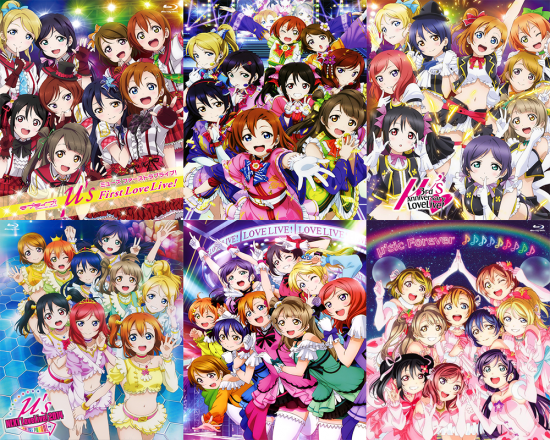 This page is collection from Love Live! School Idol Project concert.
UNTUK KONSER YANG TERKENA TAKEDOWN AKAN DI REUPLOAD JIKA SAYA MENEMU FILE HOSTING GRATIS YANG MIRIP DENGAN GOOGLE DRIVE – KASIH SARAN KE SAYA DI KOMENTAR DAN JANGAN BANYAK TANYA
FOR A TAKEDOWN CONCERT, WILL BE REUPLOAD IF I FOUND FREE FILE HOSTING SAME AS GOOGLE DRIVE – COMMENT BELOW AND DON'T TOO MUCH ASKING !!
(1) μ's First Love Live! (19 Feb 2012)
(2) μ's New Year LoveLive! 2013 (3 Jan 2013)
Format: MP4 H.264
Resolusi: HD 720p
Tipe: Blu-ray Disc
Durasi: 1 Jam per Volume
Released: Volume 2: 24 April 2013 | Volume 4: 21 Juni 2013 | Volume 6: 28 Agustus 2013
*CATATAN: Konser ini diadakan 1 hari, yaitu tanggal 3 Januari 2013 dan dirilis menjadi 3 bagian/part, Part 1 dirilis di Blu-ray Anime Love Live! Season 1 di Volume ke-2, Part 2 dirilis di Volume ke-4 dan Part 3 dirilis di Volume ke-6. Semuanya dirilis di Blu-ray Anime Season 1nya di tipe Limited Editon. Makanya penamaannya kaya gitu karena ada artinya 🙂
(3) μ's 3rd Anniversary Concert (16 Jun 2013)
(4) μ's →NEXT LoveLive! 2014 ~ENDLESS PARADE~ (8 - 9 Feb 2014)
Format: MP4 H.264
Resolusi: HD 720p
Tipe: Blu-ray Disc – RAW
Durasi:
Day 1 = Disc 1: 40 menit 53 detik, Disc 2: 49 menit 7 detik & Disc 3: 48 menit 36 detik
Day 2 = Disc 1: 1 jam 57 menit & Disc 2: 31 menit
Released: 23 Juli 2014
Day 1
Day 2
(5) μ's GO→GO! LOVE LIVE! 2015 ~DREAM SENSATION~ (31 Jan - 1 Feb 2015)
UPDATE : 30 MAY – REUPLOADED
Format: MP4 H.264
Resolusi: HD 720p
Tipe: Blu-ray Disc – RAW
Durasi:
Day 1 = Disc 1: 2 jam 32 menit & Disc 2: 48 menit 30 detik
Day 2 = Disc 1: 2 jam 9 menit & Disc 2 Part 2 : 1 jam 7 detik
Released: 30 September 2015
*jangan lupa tambahin format .rar di akhir penamaannya / don't forget to add .rar format for the end title files*
(6) μ's Final LoveLive! ~μ'sic Forever♪♪♪♪♪♪♪♪♪~ (31 Mar - 1 Apr 2016)
Format: MP4 H.264
Resolusi: HD 720p
Tipe: Blu-ray Disc – RAW
Released: 28 September 2016