[Download] Love Live! Sunshine!!: Aqours Mini Live 2016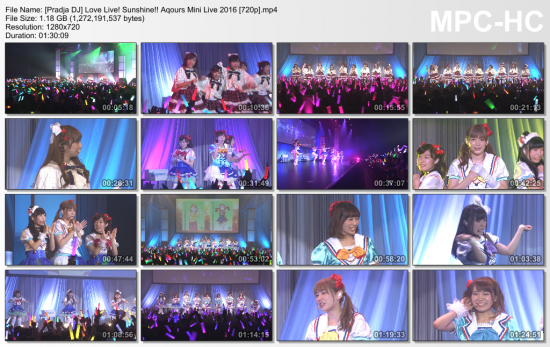 Love Live! Sunshine!! Aqours Winter Holidays Extracurricular Activities ~Shunshine With Everyone♪ Aqours Mini Live 2016♪~ (ラブライブ!サンシャイン!!Aqours冬休み課外活動~みんなでシャンシャン♪Aqoursミニライブ2016♪~ Rabu raibu! Sanshain!! Aqours fuyuyasumi kagai katsudou ~minna de shunshine♪ Aqours mini live 2016♪~) is a mini live that was held in Toyosu PIT, Tokyo, on December 27, 2016 to commemorate the release of their SIF collaboration single Jingle Bells ga Tomaranai, in which balloting tickets were attached.
Cast:
Anju Inami (Voice of Chika Takami)
Rikako Aida (Voice of Riko Sakurauchi)
Nanaka Suwa (Voice of Kanan Matsuura)
Arisa Komiya (Voice of Dia Kurosawa)
Shuka Saito (Voice of You Watanabe)
Aika Kobayashi (Voice of Yoshiko Tsushima)
Kanako Takatsuki (Voice of Hanamaru Kunikida)
Aina Suzuki (Voice of Mari Ohara)
Ai Furihata (Voice of Ruby Kurosawa)
Set-list
Aozora Jumping Heart (TV Size)
Jingle Bells ga Tomaranai
Aqours☆HEROES
Mattete Ai no Uta
Pops heart de Odorun damon!
Humming Friend
Seinaru Hi no Inori
Kimi no Kokoro wa Kagayaiteru kai?
REUPLOAD: 16 OCTOBER 2017
Title English: "Love Live! Sunshine!! Aqours Winter Holidays Extracurricular Activities ~Shan-shan With Everyone♪ Aqours Mini Live 2016♪~"
Title Japan: ラブライブ!サンシャイン!!Aqours冬休み課外活動~みんなでシャンシャン♪Aqoursミニライブ2016♪~
Title Romaji: Rabu raibu! Sanshain!! Aqours fuyuyasumi kagai katsudou ~minna de shanshan♪ Aqours mini raibu 2016♪~
Format: MP4 H.264
Resolusi: HD 720p
Tipe: Satellite Rip – RAW
Rilis: 28 Desember 2016
Durasi: 1 jam 30 menit
Size: 1 GB