[Download] LisAni! LIVE 2019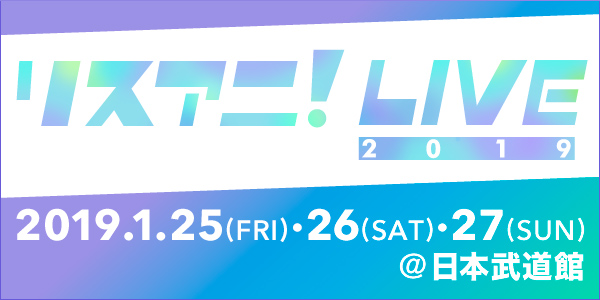 LisAni! LIVE 2019, held on January 25~27, 2019 at Nippon Budokan. Broadcasted on M-ON! TV at April 28, 2019.
Staring :
DAY 1

LiSA
PENGUIN RESEARCH
May'n

DAY 2

THE IDOLM@STER SideM
Azusa Tadokoro
TrySail
Inori Minase
yanaginagi
ASCA
REONA

DAY 3

THE IDOLM@STER Million Live ~Million Stars~
GARNiDELiA
KOTOKO
Mamoru Miyano
JUNNA
Suzuki Minori
halca
CHiCO with HoneyWorks (at Day 3) doesn't broadcast at M-ON TV!
Title: LisAni! LIVE 2019
Format: MP4 H.264
Resolusi: HD 720p
Tipe: TV – RAW
Tayang: 28 April 2019 @ M-ON TV
Size & Durasi: *see the preview images above*