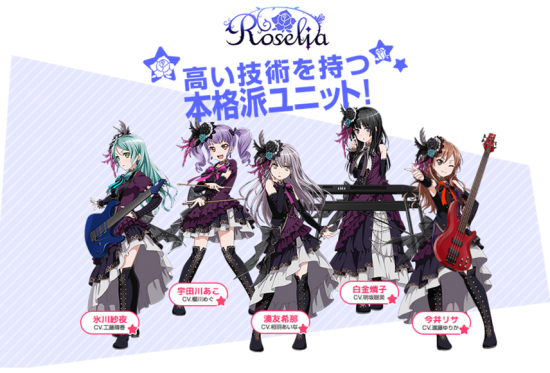 *UPDATED: 24 March 2019, added Roselia 3rd Live*
BanG Dream! (バンドリ! Bandori!) is a Japanese multimedia project developed by Bushiroad. BanG Dream! has released music CD's, anime music videos, live concert videos, manga adaptions, games, card games, and an anime series. The project officially began in February of 2015 with the formation of Poppin'Party.
"BanG Dream! Live" Collection starring by Roselia. Roselia is a girls' band fictional from BanG Dream! Girls Band Party! mobile game released on March 2017, Roselia is consisting of 5 members.
Roselia Members:
Aiba Aina as Minato Yukina – Vocals
Kudo Haruka as Hikawa Sayo – Guitar
Sakuragawa Megu as Udagawa Ako – Drums
Akesaka Satomi as Shirokane Rinko – Keyboard
Endo Yurika as Imai Lisa – Bass