[Download] "BanG Dream! Live" Collection (Poppin'Party side)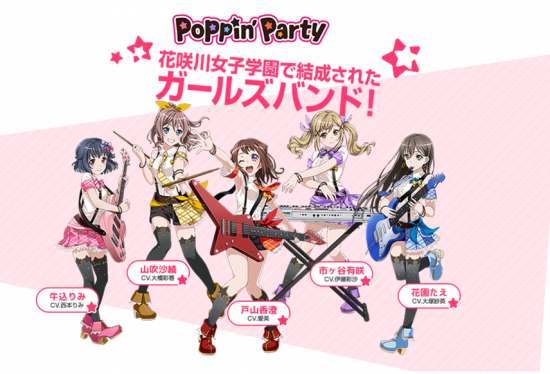 BanG Dream! (バンドリ! Bandori!) is a Japanese multimedia project developed by Bushiroad. BanG Dream! has released music CD's, anime music videos, live concert videos, manga adaptions, games, card games, and an anime series. The project officially began in February of 2015 with the formation of Poppin'Party.
"BanG Dream! Live" Collection starring by Poppin'Party. Poppin'Party is a girls' band at Hanasakigawa Girls' High School in Anime consisting of 5 members. This page collection include 1st~4th Live Blu-ray.
Poppin'Party Members:
Aimi as Toyama Kasumi  – vocals and guitar
Itou Ayasa as Ichigaya Arisa – keyboard
Nishimoto Rimi as Ushigome Rimi – bass guitar
Ootsuka Sae as Hanazono Tae – lead guitar
Oohashi Ayaka as Yamabuki Saaya – drums
More info for BanG Dream! event, click here.
*UPDATE CONCERT: 11 January 2018*
*Update: 27 November 2019 – 6th Live have been Updated*